What is the Be Your Own Boss program?
SuccessionMatching partners with universities and colleges across Canada to match
qualified students and alumni with businesses looking to transition ownership.
Free Membership
Free 3-year membership to SuccessionMatching.com
Education and Resources
Entrepreneurial and business transition
education and resources
Financial Lending
Financial lending support from
our Community Partners
Why Buy a Business
instead of Starting One?
Today's entrepreneurs face many challenges, and starting an enterprise can be very risky. New farms and businesses have to raise capital, create brand recognition, and develop new relationships with suppliers, customers, and employees.
Buying an existing business has a number of advantages including: brand recognition, existing cash flow, trained and experienced staff, loyal client base, operating supplier relationships, mentorship, and access to financing.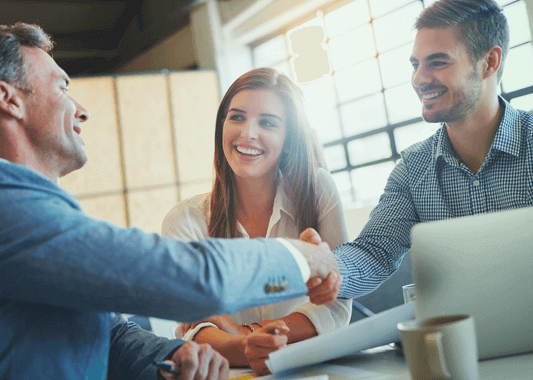 How it works
There are many successful businesses all across Canada whose owners
are seeking qualified entrepreneurs to take over their enterprise.
Input your details and confirm your email address
by clicking the link that is sent to your email inbox.
step 02
Select a "Buyer" account and complete the rest of the signup process making sure to identify which post-secondary school(s) you have attended.
SuccessionMatching will extend an invitation for you to connect with a nearby lending partner, who will ascertain your readiness to pursue business ownership and educate you on your lending options. If they determine you are eligible for the program, the lending partner will then give you a coupon code that you can use to create your free buyer listing.
step 03
Login to your SuccessionMatching.com Buyer account
and create a buyer listing.
step 04
Use the coupon code when prompted for payment.
SuccessionMatching will request credit card details for
authentication purposes only—it will not be charged
step 05
You are now ready to fill out further information on your profile
and start browsing business opportunities on the site.
step 06
Our partners
The following universities and colleges are SuccessionMatching's
Be Your Own Boss Post-secondaryPartners.
The following lending institutions are SuccessionMatching's
Be Your Own Boss LendingPartners.
The Be Your Own Boss launch event
The national launch event for the Be Your Own Boss program is on September 27, 2018 at
South Block Whiskey Bar (148 Sparks Street, Ottawa). Click here to view the Facebook event and get your ticket!
Contact us!